European Fedration of Audiology Societies (EFAS) update
Warm greetings from EFAS to all members of the Irish Academy of Audiology. As you should already know, many European Countries collaborate through EFAS with over 30 active participating countries sending representatives – not all have the good fortune to have a recognised and active Academy such as Ireland, and we try to support access to degree level training and increase research opportunities.
On www.EFAS.ws read the Mission statement; find out more about local Audiology systems and consider the possibilities of cross border research/ staff and student exchanges, or apply for EFAS Congress scholarships for the 2019 Congress in Lisbon on 22nd to 25th May. (www.efas2019.com).
Grants are intended to help younger Audiologists to travel and share their work but the definition of 'young' is quite generous. I hope that you did attend beautiful Interlaken, Switzerland in June, when Ireland were honoured to hold the elected Chairperson's role through me, Dr. Theresa Pitt, for the first time. The other members of the Board, especially Dr. Martin Kompis in Switzerland, our Treasurer (naturally!), worked very hard to make this a great event for over 430 participants. Our venue was historic and weather perfect.
At th e EFAS Congress in Istanbul in 2015 we shared great food and the spirit of East meeting West; in September 2016 European Academics went to University College Cork to see the new Health Professions facility and the historic Council Rooms, under Chairperson Dr. Theresa Pitt, to talk about e-learning & cross-border online opportunities in Audiology; with Irish Culture and music for free on Friday. Friends Songul Aksoy (Turkey), Jagjit Sethi (United Kingdom) and myself even kissed the Blarney Stone; vital scientific enterprise in communications despite political unrest and Brexit! Friends & colleagues remain our best resource; virtual 'Facebook' friends must not replace all the real. Audiology is not just a 'job' but a real passion.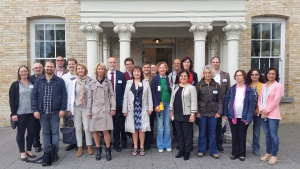 Our 2018 'mini-congress', under new Chairperson Dr. Francoise Artieres-Sterkers from Montpelier, France (standing left of Theresa in U.C.C. photo, will be at her local venue of Palaver-les-Flots near Montpelier in September, when we fully expect the vines and the sunshine to be stunning. We will continue to review e-learning and perhaps the wider role of technology now.
EFAS has encouraged higher levels of training and professionalism in Europe, including advocacy. There are many interesting Working Groups in progress and you can learn more about them from the website. Help the Committee to keep European Audiology moving forward as a team, both real and virtual. All member states can promote their own Congress bid and now we can look forward to two more beautiful sunny locations for the coming major congresses. In 2021, EFAS are heading to Croatia with the local Chairperson Dr Robert Trotic, for some more guaranteed sun, sea and good food; the EFAS Board are always delighted to hear from new contenders. So please wish us the best of Irish luck until 2019!
Dr. Theresa Pitt, Au.D., M.Sc., Past Chairperson EFAS 2017-2019, on behalf of IAA.