European Federation of Audiology
Warm greetings from EFAS to all with an enthusiasm for ears and hearing. Many European Countries  collaborate through EFAS; on www.EFAS.ws read the Mission statement; find out more about local Audiology systems and consider the possibilities of cross border research/ staff and student exchanges, or apply for EFAS Congress scholarships intended to facilitate younger Audiologists to travel and share their work.  Please do climb mountains with us in beautiful Interlaken in June, www.efas2017.org
At the Congress in Istanbul in 2015 we shared great food and the spirit of East meeting West; last year in September 2016 a group of European Academics went to Cork and shared their progress with e-learning & discussed ways to enhance cross-border online opportunities in Audiology; we also tackled some free-spirited Irish Culture and I even kissed the Blarney Stone with friends Songul Aksoy (Turkey) and Jagjit Sethi (United Kingdom).  This is a vital scientific enterprise in communications despite the shadows of political unrest and Brexit!   An EFAS grant-funded Israeli project on e-learning had 'technical hitches'; technology changes so rapidly now that solutions will upgrade every 2 years.  Friends & colleagues remain our best resource; virtual 'Facebook' friends must not replace all the real ones – many of whom also love Audiology in the 'wider sense'.  It is not just a job to us, but a learning curve and a passion.
EFAS, over many years, has encouraged higher levels of training and professionalism in European Audiology with support to educational degree programmes, including advocacy.  There are many interesting Working Groups in progress and you can learn more about them from the websites and the Congresses.  Please do submit an abstract to showcase your enthusiasm, and help the Committee to keep European Audiology moving forward as a team, both real and virtual.  All member states can promote their own Congress bid.  Dublin has world class conference facilities to host 700-800 people, so worth considering?  In 2019, EFAS are heading to Lisbon for some guaranteed sunshine.  This year, the Board want to focus energy on emphasising action points from our EFAS Mission Statements.  So please wish us all the best of good luck!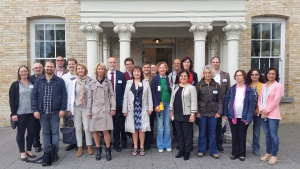 Dr. Theresa Pitt, Au.D., M.Sc., Chairperson EFAS 2107, on behalf of IAA.